ABOUT US
PLS HURT ME
We are a group of artists dedicated to giving you the best tattoo experience possible. Our studio is centrally located in the historic Western Supplies building in Edmonton, Alberta. The studio is by appointment only. Walk-ins are not accepted except for on specified flash days. To make an appointment please contact the artist directly. All of our artists have current Bloodborne Pathogen Certification from Red Cross, and we are certified by Alberta Health.
PLS HURT ME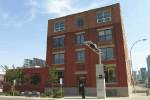 We seek to provide customers with high quality tattoos from amazing artists. Our commitment is to the highest level of cleanliness and professionalism, ensuring the safety and satisfaction of our clients. Please check out our instagram for our many guest artists.
STUDIO FEED
Check out the studio's instagram @plshurtmetattoo for more art and info on guest artists.